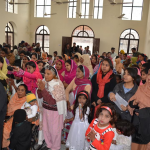 Christ is born!
We are thankful to God who is always with us and encourages us in our Mission.
Now the First Orthodox church is almost completed and we are trying our best to beautify the house of God. The Altar is ready and red carpet is put on the floor inside the church. The faithful are strengthening their faith day by day.
There are many things which are in need to strengthen Orthodoxy here in Pakistan.
Your moral support which makes us brave and healthy in awful situation.
We are Pakistani and we have motto of bringing peace in our country. In these days a big operation is going on against terrorists and a new law has come to deal with them strictly. Our communities are not safe but we ask you to remember us in your prayers that God may bring peace in Pakistan.
We have to work according to the signs of time. That is why we are trying to have good relations with everyone like the good Samaritan. This is the way to promote Orthodox faith in our country.
Your financial support is very much important.
We have to spend for food, utility bills, children`s school high fee, house maintenance , medication, transport etc.
Pastoral travelling
We need a small van which could be beneficial for my pastoral activities like visiting the sick in the hospital, visiting communities in different areas.
A request
I request you please, try to understand me and my situation. To look after the flock is not so easy. I have to see my own family and the family which is given to me by God in Pakistan.
I am very much afraid that I cannot fulfill the needs of my family because of my limited resources.
I appeal you kindly, do some thing for the promotion of Orthodox Mission in Pakistan. Church is extending day by day. Your penny is valuable for OMP