Dear Friends,
The blessing of our Lord God is with you all!
Since the Great Feast of the Nativity is fast approaching, it is my duty to thank you for the contributions you have made and to share my all pastoral activities from this year. The Lord Jesus Christ came for the Universal Salvation without discrimination among poor and rich. Salvation for the sinners, the sick, the needy, the poor, the orphans, the widows, the outcast and the marginalized.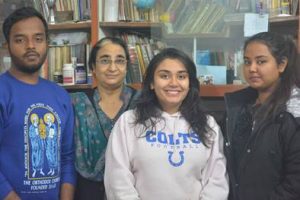 In the environment where the Orthodox Mission is working, we face all sorts of problems; but through your great encouragement our mission is growing. St.Paul says that he can do everything because Christ is with him. Our motto is the same because Christ is with us through you as we are one in Christ. 
Dear friends, the year which is passing we have constructed a community center with two rooms and two washrooms in the church compound at Wazirabad. This building will be used to conduct different seminars, Bible study, youth camps, catechism and moral classes for young girls so that they become strong to save themselves from brutal men. This building is ready but we need furniture etc.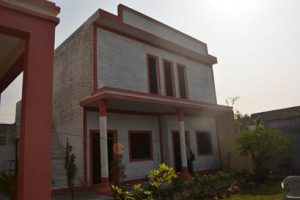 As you know that we are facing faith problems, three years back one of our faithful was in the jail but by the grace of God and through your financial help he is out from behind the bars. I really appreciate your support because this is the first case of court which we won. God  bless Pakistan.
The sewing center has now operated for 5 years, where we train young girls in stitching, as well as to save them from the bad society where they are abducted by people of other faiths. We help them in different ways like providing them legal support by hiring lawyers. In January 2017 we will offer beauty parlor training at our center so that they can become self-supporting for their family. The teacher is ready who has been trained through your great support.
For this training we need your assistance so we must save our girls who also are the daughters of Abraham and Jacob.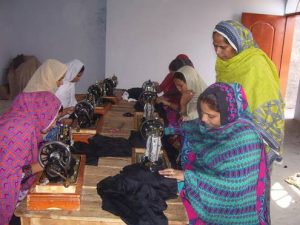 A few months before we distributed two hundred Holy Bibles to enrich our faithful in spirituality. We performed  the Holy Sacraments of Baptism, Chrismation and marriage.
Since the Orthodox Mission was founded we are helping the school, college and university students. We cannot do much as our resources are limited therefore we are always in the requesting position before friends and donors.
Often we distribute food, but due to limited resources we cannot do much. We appeal you to share your table with the needy and hungry.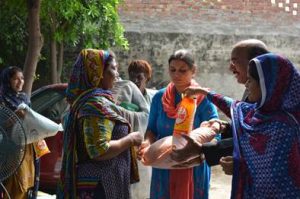 We tried our best to help the sick people through medicines and hospitalization. From January I myself have not been so well so I had to go through some medical tests but thank God I did not lose my hope and the mission work was not stopped. A few other Orthodox were having problems so we tried to cope with them. Recently Semion an Orthodox faithful underwent a gallbladder surgery and by the grace of God after being two months in the hospital he is healed.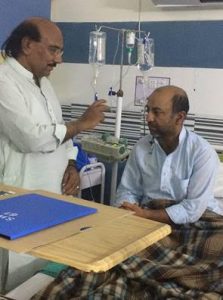 Dear friends, I want to request you to pray for Presbytera Rosy who is not well and is undergoing medical tests. Your prayers are very much needed. You know that she is highly qualified in Theology, Scripture and Counselling, so she will start different conferences in the coming year so her health is very strongly needed.
At the end I want to thank each and every one of you who so eagerly are at our back to support us in all spheres of life.
United in Christ,
Fr.John Tanveer and the orthodox community in Pakistan
Please consider making a Christmas donation to help Fr. John & the Orthodox Mission in Pakistan.