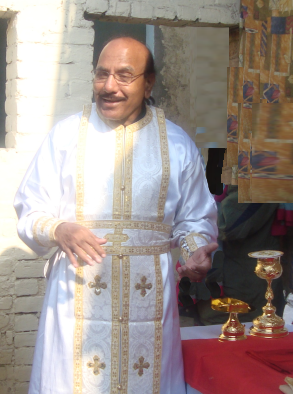 Fr. John Tanveer was born into a Roman Catholic family in Hafizabad, Pakistan in 1952, the third of six children. His zealousness for the faith and thirst for learning led him to enroll in the seminary, and in 1986 he was ordained a Roman Catholic priest. For the next 10 years Fr. John served the Lahore Diocese with enthusiasm as a priest and instructor at the seminary in Lahore. However, during the course of teaching, studying, praying, and reading, he came to learn about the Orthodox Church. In time he came to believe the Orthodox Church was "the One, Holy, Catholic and Apostolic Church."
Unable to gain access to Orthodox materials or books, he began using the internet to learn more about the faith and incorporate its teachings into his lessons and sermons. In 1996 Fr. John finally spoke to his bishop and told him that in his study of the Orthodox Church, he had discovered many differences in the teachings of the two churches. He said, "I must see who these Orthodox are." His bishop tried unsuccessfully to discourage his interest. Fr. John resigned from his pastoral duties and left the Roman Catholic priesthood. Accepting the dominant cultural pressures to marry and have a family, Fr. John married Presbytera Rosy in 1997. They soon began a family and now have three children—a son and two daughters. As a family they have continued their life-long journey of "becoming Orthodox."
Upon leaving the Roman Catholic Church in 1996, Fr. John was able to obtain a job at the International Press newspaper in Lahore where he earned a living as a journalist. He was not going to church at the time, but began looking for a true spiritual home by reading and searching about the Orthodox faith. In July 1998 Fr. John submitted a letter to a Greek man he had met in Lahore years before, inquiring about how to become Orthodox. The man forwarded Fr. John's letter and eventually it ended up in the hands of Metropolitan Nikitas of Hong Kong and South East Asia. In October 1998 Fr. John received a letter from Metropolitan Nikitas inviting him to enter into a dialogue of how to become Orthodox, thus beginning a correspondence between Fr. John and Metropolitan Nikitas. In 2003 His Eminence traveled to Pakistan and the two met in person. In 2005 Metropolitan Nikitas visited Pakistan again and baptized and Chrismated 300 people into the Orthodox faith. Although not yet an Orthodox priest, Fr. John continued his pastoral activities, sharing the faith with others through conferences and seminars.
After being Chrismated in 2005, Fr. John knew he wanted to re-enter the priesthood and so he began preparing for his holy duty. He applied to Holy Cross Seminary in the United States in 2005 and 2006, however neither opportunity materialized as he was declined a visa to the United States both times. With the blessing of the Metropolitan, Fr. John sent away for the materials needed to study and prepare for ordination. Finally, in November 2008, Metropolitan Nektarios ordained Fr. John to the priesthood in Athens, Greece.
Since that time, Fr. John has continued his ministry, slowly developing, by the grace of God, the Orthodox Church in Pakistan. He and Presbytera Rosy joyously and faithfully stay the course that God has laid before them, despite the many challenges and trials of being Orthodox Christians in Pakistan.